About Us - 'How it All Started' by Guy Lee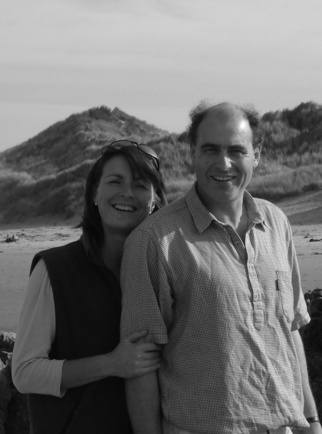 Guy and Philly Lee
After leaving Seale Hayne Agricultural College in Devon I worked first as an assistant manager in Dorset, and then as a partner in a tenancy with the landlord in Surrey. It was then through the generosity of my parents, who sold their house in Hampshire, that we bought Sandystones in 1990. We moved up as a family in September 1991 and I wanted to buy some machinery to get me started on our new acquisition. I asked friends and neighbours how to find out who has machinery for sale. The answer was to ring the various local dealers which is fine but takes time. In the South I would have picked up 'The Farm Advertiser,' a free magazine mailed to all farmers that was full of advertisements and I would have found what I was looking for.
I purchased a used Ford 7610 with a loader from Lloyds, and a plough which got me going but the idea of starting a magazine was always in the back of my mind. When I mentioned this thought to an advisor he jumped at the prospect and said he had a similar idea. This was enough to make the concept a reality and so Agrimart was born. We wanted to have a name that did not restrict us to have a region - Philippa designed the logo that has remained unaltered apart from an upgrade to full colour. We contacted all the local suppliers with an offer of four advertisements for the price of three and our very first issue was 24 pages. This meant we have been cash flow positive from day one. Knowing nothing about printing or bulk mailing sorted by postcode, the first edition was a mass of mail bags, magazines and address labels all over the kitchen floor. We bought mailing lists from various sources, a programme that sorted all the addresses into Royal Mail Post Codes, and a heat sealer for the plastic mail bags. Initially Agrimart was printed by Speirs and Keddie in Galashiels, before we moved to Meigle Printers in Tweedbank who produced the publication for ten years.
For the first six issues the magazine was put together by the partners but as content increased we needed help and the first person who came was Nesta Todd. She had just married Grant, our neighbour at Greenend, and had previously worked for The Scottish Farmer. When Hannah, their first child was due, she left and her place was filled temporarily by Kate Brown (now Farnsworth). Gill and Gail followed Kate and it was in September 1996 that Hilary Jackson joined us. For the first 13 years Hilary would collect the advertisements together, initially as faxes, handwritten pieces of paper and telephone calls and she would spend three days a month sitting with the printer putting the pages together. With improved technology came pdfs and emails and then in 2009 we bought our first Apple computer and 'In Design' programme. My daughter-in-law, Jess, published Agrimart from 2013 until the arrival of our grand-daughter Tilly in August 2014, when Nadine Malcolm took over the running of magazine.

Initially Agrimart was posted to all farmers and agricultural businesses in The Borders, Lothians and Northumberland, we then increased the area to include Fife, Perthshire and Angus and now over 7000 copies are mailed monthly to addresses all over Scotland and Northern England. The introduction of the website - www.agrimart.co.uk - where the most recent issue is always available to flick through, has given our advertisers even further coverage and also accommodates links to their websites by clicking on the web addresses in the adverts.
For 17 years the magazine was packed, labelled and sorted by Linda Hawker in a cottage at Sandystones; 5000 copies would arrive on Friday afternoon, and on Monday morning we would take 120 mail bags to Galashiels sorting office. Now the magazine is packed and mailed out from the end of the printing line.
When we arrived at Sandystones the steading was a mass of small buildings and yards. "What you need" said Eddie Allen of Lloyds "is a skid steer". And so he sent over a well used New Holland which was ideal in our low sheds. I immediately started filling up spare space in Agrimart by advertising 'Skid Steer For Hire' and this side of our business has grown and we are about to take delivery of our fifth skid steer. In 2007 a reader in Northumberland called Les Christian advertised a 6 wheel drive winch truck for hire, twice I brought it to the attention of my fellow egg producers who did not react to my enthusiasm for such a vehicle to move chicken sheds. After the ad was repeated I thought I would go and see it. I was taken in by the love Les had for the truck and immediately knew I had to buy her, and thus Wendy came into our lives.